Credit Cards

Enjoy 5.9% Balance Transfers for 6 Months

It's always important to be strategic about your finances. That means consolidating your balances, managing your financial health, and minimising interest rates on multiple cards.
That's why we want to offer you a special 5.9% annual interest rate on balance transfers to any Collabria* credit card¹. By taking advantage of this special rate, you'll get to:
Consolidate your balances

and pay only one interest rate on balances

Save on annual fees

from multiple cards²

Enjoy this 5.9% balance transfer rate

on as many balance transfers as your credit card limit allows for the next six months from the date of transfer³
This offer is available from Aug 1, 2020 and expires on October 31, 2020.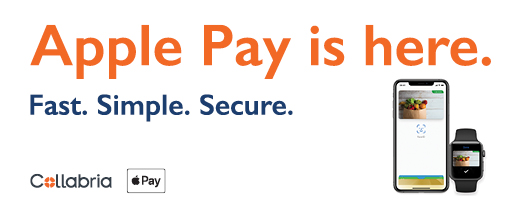 Using your credit card just became easier! You can now add your credit card to Apple Pay and start making purchases on the go with your iPhone, iPad, Apple Watch or Mac with merchants that accept contactless payments, in participating apps and on the web.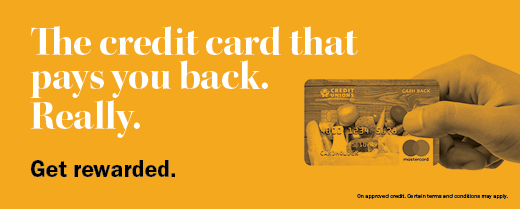 We know credit cards aren't a one size fits all, that's why we offer a full suite of personal and business cards, so you can choose the one that works best for you.
No Annual Fee Cards

Cash Back Mastercard®

Earn cash rewards on everyday purchases
No annual fee, 19.9% . . . . Learn More
Apply Now

Student Mastercard®

Helping students build a strong financial future
No annual fee, 11.9% . . . Learn More
Apply Now

Low Rate Cards

Classic Mastercard®

Low rate and low fee, make this a great card for those that sometimes carry a balance
$30 annual fee, 11.9%
. . . . Learn More
Apply Now

FlexRate Mastercard®

Maximum flexibility for your lifestyle
Flexible interest rates and reward points with every purchase.
$40 annual fee, Variable; Prime Rate* + 6.9% to 15.9% purchases and cash advance
. . . . Learn More
Apply Now

Centra Gold Mastercard®

Low rate, great rewards and additional card features
$50 annual fee, 9.9%
. . . . Learn More
Apply Now

Travel Cards

US Dollar Mastercard®

The perfect card for those that travel or shop in the Unites States
$50 annual fee, 19.9%
. . . . Learn More
Apply Now

Travel Rewards Gold Mastercard®

From baggage coverage to emergency health coverage, travel with peace of mind.
$99 annual fee, 19.9%
.....Learn More
Apply Now

World Mastercard®

More choices, more rewards!
$120 annual fee, 19.9%

. . . . Learn More
Apply Now
Click
here
to view the Business credit card page.
Your Rewards...Your Way!

You live your life your way. You should use your rewards your way as well. With our FlexRewards program, you earn points just for using your card. Plus, you can redeem those points for your choice of cash, gift cards, merchandise or travel rewards. To check out the most current reward options or redeem points, visit our Rewards Site.
¹ offer applicable to World Mastercard product only. All other card products are not eligible. Application is subject to approval. Offer open to new World Mastercard accounts activatied between September 5th, 2018 and November 5th, 2018. Each account must remain open, in good standing and not become delinquent. Allow up to two billing cycles for bonus points and annual fee credit to post to your account.
Eligibility for rewards and/or account credit is subject to the terms and conditions for the Collavria FexRewards Program.
The Collabria Mastercard is issued by Collabria Financial Services Inc. pursuant to a license from Mastercard International Incorporated. Mastercard and the Mastercard Brand Mark are registered trademarks of Mastercard International Incorporated.