Mortgages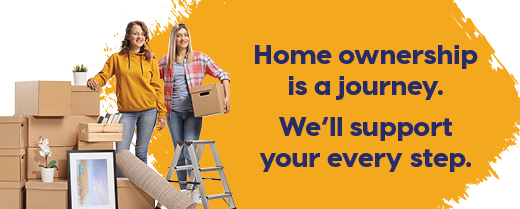 Whether you're ready to purchase your first home or just need mortgage advice, we can help.


No two households' financial needs are the same. You can trust that Victory Credit Union will provide you with honest advice and mortgage products that fit your needs. We will help you on your journey to achieving your homeownership goals. Whether you're saving for a down payment, buying your dream home or thinking about eco-friendly renovations, we can help.
Hoping to buy your first home? Or thinking about a new home? One of the most common questions we are asked is,
"Can I afford to buy a house?"
Explore our flexible mortgage options designed to fit every need. We even have options such as no down payment. Not sure what mortgage is right for you? Our knowledgeable, friendly staff will guide you through the mortgage process.
Review Victory Credit Union's mortgage options below and let us know if you have any questions. You may contact your
preferred branch
or schedule a phone or in-person appointment.
No Down Payment Mortgage



Saving for a down payment to purchase a home can sometimes
feel like an impossible financial goal to achieve. We can help.

>LEARN MORE

Purchase Plus Inprovements Mortgage




Start your upgrades right after taking possesion of your new home.


>LEARN MORE

Cash Back Mortgage

Recieve up to 5% (up to $25,000) of your mortgage amount in
cash back.

>LEARN MORE

Home Equity Loan - Line of Credit




USe equity in your home to give you financial freedom.


>LEARN MORE

Second Home or Cottage Mortgage




A second home or perfect family get away could be within your
reach.

>LEARN MORE

Closed Term Mortgage




A fixed rate at a defined term, making payments more predicatable and budgeting easier.

>LEARN MORE
First Time Home Buyer


Are you ready? Where do you start? Fixed rate or variable rate? Open or closed mortgage? What's an amortization period? Is home ownership even right for you?
There is a lot to learn before you make the leap into home ownership and we can help you figure out what is best for you. Buying a home is probably the single biggest investment you'll ever make and you want to make wise decisions. Understanding where to start is the first step in being prepared. Book an appointment now iwth one of our financial advisors to discuss your options or start with our First Timers Guide: Buying Your First Home. designed to help answer your questions and understand what's next. Find lots of tips and articles on Honest Money.


Not sure you can afford a mortgage? Check out our
Mortgage Calculator
and
First Timer's Guide: Budgeting
to get a better idea of your situation.